Diarrhea Vaccine?
Man has searched high and low for the answers to health, the cures of disease. The largest success to date, antibiotics, is turning into a huge biologic time-bomb, as germs mutate quicker than we can keep us with, as diseases, simply treated before, are killing us today. The answer, more potions. Vaccinations and immunizations. Biologic concoctions made in animals, laced with poisons, contaminated with unknown (and sometimes known) viral DNA. We go like cattle to administer that latest drug company money mill creation to ourselves and our children, with little concern of what we are really doing.
Well, now we have a new vaccine against diarrhea, of all things. This rates right up there with the chicken pox vaccine. When will it all end? In a related story, our federal government is going to spend $120 million to inoculate our military against anthrax. I see all this biological tinkering as a pathway to destruction. Even if the vaccines work, the germs will mutate to adapt to the new found strength of its victims. Then what will we be? It's happening right now with antibiotics. It will happen with vaccines. Maybe it's already happening. Where will it all end? Will we ultimately be healthier with less disease, or will we be weaker with more virulent diseases? Time will tell.
Please remember, the practice of medicine is the THIRD leading cause of death. Why would anyone trust that? Why?
Dr. Richard Lindwall,
GVAL Advisory Board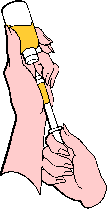 .